An interesting mailday today with lots of good stuff. I have a fantastic mailday coming in the next few days, I can't wait to show you guys. Anyway, today's mailday is full of sheets, McDonald's inserts and a couple other randoms. Enjoy!
1989 Come Fly with Me Italian Promo Card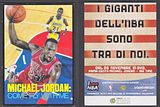 1989-90 Hoops All-Star Panels - Panel 4
1990-91 Hoops All-Star Panels - Panels 1 & 2
1991 McDonalds Fitness Fun Challenge Insert Set (8) #NNO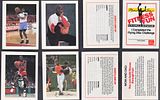 1991-92 Skybox Mark and See Minis USA Team Card #NNO
1992 5 Majeur Blue Border "USA Dream Team 82" and Ad Card
1992 Upper Deck Company Salutes Chicago Bulls Back to Back Champions #'d/35,000 - 3"x5"
1998 Stadion Cards Report #P006